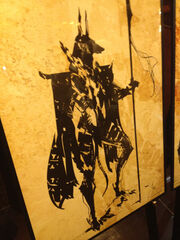 "Enders Project" Anubis
is an original variant of the
Orbital Frame
Anubis
. The model was introduced in the announcement of the "
Enders Project
" by Hideo Kojima during the "ZONE OF THE ENDERS HD NIGHT" event in May 25th, 2012.
This Anubis model boasts a very different appearance from the traditional version, taking a more organic and humanoid look. It has a shorter tail, a spear-like staff and a cape-like cloth on its back. Another drawing portrays an Anubis with a more demonic appearance wielding a sword.
Concept art gallery
Edit
Ad blocker interference detected!
Wikia is a free-to-use site that makes money from advertising. We have a modified experience for viewers using ad blockers

Wikia is not accessible if you've made further modifications. Remove the custom ad blocker rule(s) and the page will load as expected.